Upcoming Events . . .
Linda is currently hard at work on her next book.
. . . and reports back

11 May, 2020.
Linda Porter and Paul Lay in a podcast at the virtual Chiddingstone Literary Festival:


31 July 2019 at 9:30 am.
Linda told guests at the Three Choirs Festival about The Real Bloody Mary.
Elaborating on the revelations in Clare McCaldin's dramatisation of Mary Tudor's life in Mary's Hand at on 30 July, historian Linda Porter gave a rounded view of England's first sovereign queen to a lively, receptive audience.
The details of Linda's Talk in Gloucester
Clare McCaldin's performance of Mary's Hand

7 May at 4.00 pm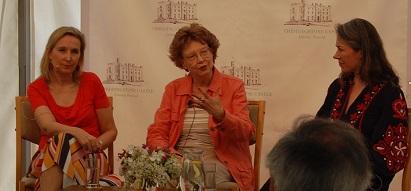 At the Chiddingstone Literary Festival Linda, Leanda de Lisle, and Lucy Moore discussed Royalist Women.

Leanda is the author of "White King: Charles I – Traitor, Murderer, Martyr". Lucy's new book is "Lady Fanshawe's Receipt Book: An Englishwoman's Life During the Civil War".

21 October at 4.00 pm
At the Berwick Literary Festival Linda gave a talk about her current book, Royal Renegades: the children of Charles I and the English Civil Wars.

9 October at 1.45 pm
Linda gave a two-hander with Charles Spencer at the Cheltenham Literature Festival in a session entitled Charles I: a toxic legacy.

21 June 2017 at 6:30 pm
Linda gave a talk about Royal Renegades at Brenden Books in Taunton.

3 - 4 May 2017
Unfortunately Linda was unable to take part in Alison Weir's Tudor Tapestry tour due to illness, She was to be speaking about why Henry VIII married so often, his sixth wife, Katherine Parr and his daughter, Mary I.

6 February 2017
Linda gave history lectures at Dauntsey's School:
In the afternoon Linda spoke to history students about the Queens of Henry VIII
. She shared tea and supper with a lively and interesting group of young scholars. At 19:30 she gave a lecture about her latest book, Royal Renegades, The Children of Charles.
Dauntsey's School, West Lavington, Devizes, Wiltshire SN10 4HE

19 January 2017, at 2:00 pm
Linda presented Royal Renegades to a good audiance, the Riverside Book Circle,at the Riverside Arts Centre, 59 Thames Street, Sunbury-on-Thames, TW16 5QF

21 November 2016
Linda appeared with Lucy Worsley at Hampton Court Palace for a behind-the scenes look at the Six Wives of Henry VIII, in connection with Lucy's new BBC1 series.

11 November 2016
Linda spoke about her new book at the Richmond Literature Festival in the Hyde Room, York House, Twickenham, at 7:00 pm, to a good audiance.

14 November 2016, at 6:30 pm
Linda talked about 'Royal Renegades' at the Tower of London as part of a series sponsored by Historic Royal Palaces .

25 October 2016
Linda spoke about 'Royal Renegades: the children of Charles I and the English Civil Wars', organised by Lindum Books, Lincoln. The event took place in The Collection auditorium.

26 October 2016
A talk by Linda on 'Royal Renegades' at Gainsborough Old Hall, Gainsborough, DN21 2NB at 1930
.

1 October 2016 at 2:45 pm
Linda presented the paper 'Rival Queens: Mary Tudor and Mary of Guise' as part of the conference commemorating the 500th anniversary of the birth of Mary Tudor
. This was at the Institute of Advanced Studies, University College London.

6 October 2016, at 7:00 pm
Linda gave a talk on Mary Queen of Scots and the Stuart inheritance at the very interesting Markenfield Hall, Ripon. Members of the Friends of Markenfield Hall formed a fine and receptive audence.

16 June 2016
"Linda Porter on Katherine Parr"; spoke at the last in Oadby Libraries' Six Wives of Henry VIII series. The event was at Oadby Library,10 The Parade, Leicester, LE2 5BF.

23 April 2015
Linda appeared as an expert in The Last Days of Charles I with several other historians of the period.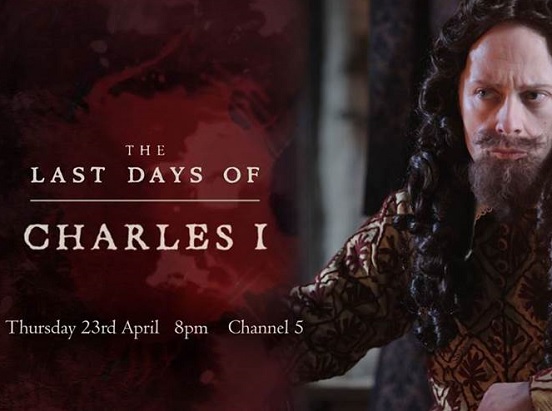 9 April 2015
Linda appeared on Channel 5 (UK TV) in The Last Days of Mary Queen of Scots with several other historians.

23 October 2014
The Sevenoaks Historical Society had a good audience to hear Linda talk of the royal revelries of Scots and English kings.

28 August 2014, Leeds Castle at 3:30 pm.
As a part of The Medieval Festival at Leeds Castle Linda presented the third talk of the day; 'Three Tragic queens of the Tudor Age: Katherine Parr, Mary I and Mary Queen of Scots' at The Maiden's Tower at Leeds Castle at 3:30 pm.

8 July 2014
Tudor Marriage. Linda spoke, along with novelists Vanora Bennett and Liz Fremantle, to a good audience at Hounslow Library. Vanora Bennett is the author of The People's Queen and numerous other books. Liz Fremantle is the author of Queens Gambit and Sisters of Treason.

12 May 2014 at 7 pm.
Linda enjoyed her evening talk about Mary Queen of Scots in Sheffield. Thanks to David Templemen and the Friends of Sheffield Manor Lodge for a fine evening and helping us out of the car park.

14 May 2014
Linda had a fine day returning to the University of York presenting a lecture about the Tudors and Stewarts in Kings Manor to a very good audience.

1 March 2014 at the Great Hall at Hampton Court
Linda spoke in aid of fund raising for the International Red Cross. Members of the Tiffany Circles from America, Australia, Britain and Canada gathered in London for their Inaugural International Celebration Weekend.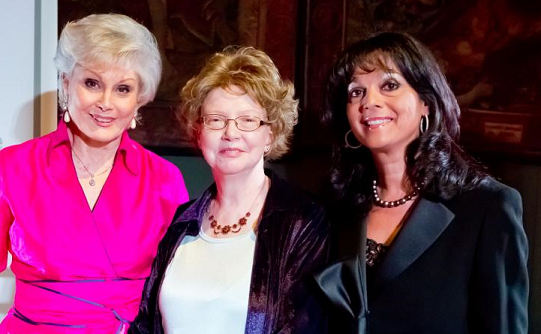 Angela Rippon (left), British Red Cross vice president compered the Celebration dinner in the Great Hall at Hampton Court palace. Dr. Sindy Newman (right), the British Tiffany Circle Chair, was host to the event. Linda spoke of two British Queens; Margaret Tudor and Katherine Parr.

7 November, 2013 at the Stables of the George Inn, Eton.
Thames Valley History Festival
Bookend Brides: Tudor Queens First and Last
Linda chaired a discussion with the historical fiction writers Elizabeth Fremantle, Vanora Bennett, and Joanna Hickson . The Stables at the George Inn was packed tightly with people who had a fine time learning about the lives and times of Catherine of Valois through to Katherine Parr. Elizabeth, Vanora and Joanna gave great insight into their fictional understanding of the characters they bring to life. Linda added her agreement, information, and elements of quotation in her on-going effort to allow the historic figures to speak for themselves.
Thames Valley History Festival

Saturday 26 October 2013 at 12:00
The BBC History Magazine's History Weekend in Malmesbury. In the magnificent setting of Malmesbury Abbey Linda spoke about the struggle for control of the British Isles in the 16th Century between some of the most colourful monarchs in English and Scottish history. This was the backstory of Mary Queen of Scots.

Monday 30th September 2013 at 13:30. Wigtown Book Festival at County Buildings, Main Hall.
Crown of Thistles:The Fatal Inheritance of Mary Queen of Scots
Linda spoke to a packed house with good questions and a book signing afterwards. Watch this space for further detail and possibly a link to a recording. . .

3 September, 2013 at the Tower of London.
Linda wil talk about her new book, Crown of Thistles, at 7:00 pm.

14 August, 2013 at the Edinburgh Book Festival.
Rosalind Marshall & Linda Porter
Searching for Mary Queen of Scots
"To coincide with a National Museum of Scotland exhibition, Linda and Rosalind Marshall spoke widely about Mary Queen of Scots, her times and her forbearers. There was a sell-out crowd for 10:30 at the ScottishPower Studio Theatre "

20 July, 2013 at Kelmarsh Hall, Northamptonshire.
Linda's talk at the BBC History Magazine tent ended a busy day of historical lectures amid the sounds of reenactment cannon fire.

28 May, 2013 at Hampton Court Palace.
Linda told an attentive audience about Mary Tudor and answered questions about her first book in the lovely setting of Hampton Court.

10 March, 2013 at Wrest Park, Silsoe, Beds sponsored by English Heritage
Linda spoke about her forthcoming book 'Crown of Thistles: the fatal inheritance of Mary Queen of Scots' as part of the Wrest Park Literary Season.

5 September, 2012 sponsored by the Friends of Sheffield Manor Lodge, Sheffield
Linda spoke at the United Reform Church about 'The Remarkable life of Katherine Parr'.

11 June, 2012 at Sudeley Castle, Winchcombe, Gloucestershire
The literary lunch as part of the quincentenary celebrations of Katherine Parr's birth. In the morning Tim Porter spoke about Leland's Main Account of Winchombe and Sudeley. After lunch Professor Eric Ives, an eminent Tudor historian, led a discussion of the life of Katherine Parr by three currently published authors. Linda gave a general overview then Susan James examined paintings of the queen and what we could learn from these images. Janel Mueller then looked into the writings of the first published Queen. The rain fell on Sudeley Castle but, dry inside a large group enjoyed learning about the lady buried nearby.

12 June, 2012 at The Old Tea House, 6 Hailes Street, Winchcombe, GL54 5HU
Linda gave a talk at The Old Tea House which was followed by a full afternoon tea. She spoke about the new book which she is currently writing. "Crown of Thistles; The Fatal Inheritance of Mary Queen of Scots." The book will focus on the rivalry between the Tudors and the Stewarts and Linda told the story of the marriage between 13 year-old Margaret Tudor and 30 year-old James IV of Scotland in 1503.

24 May, 2012 at the University of York
Linda greatly enjoyed the visit to her university and the response to her talk, The last wife and the first queen: the friendship of Katherine Parr and Mary Tudor, by the public and members of the university.